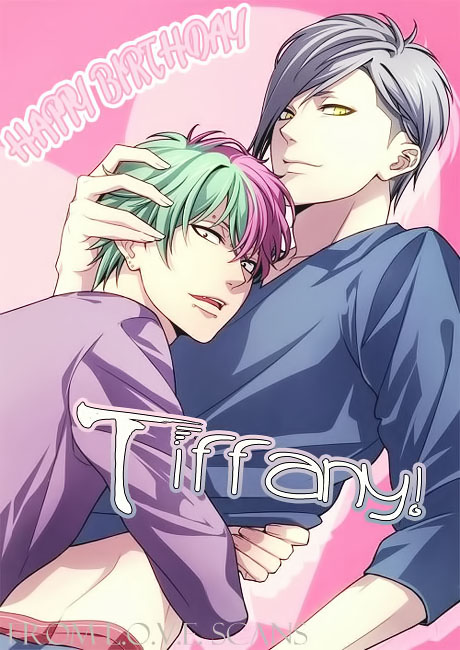 Wooooo! HOPE YOU HAVE MODERATE CRAZY FUN ON THIS BEAUTIFUL DAY.
Hey tiffany AKA enchantednights AKA your dreamy proofreader! *wink to the crowd* You help proofread to bring to the stage some very loved projects of ours, Adekan and Ilegenes (IF YOU HAVE EVER LOVED ANY OF THESE SEND HER YOUR REGARDS) and that's great because we love them and your fangirl notes, so we'd like to send you off today and be merry!

AimoAio:
Happy Birthday tiff! So sorry we don't have Ilegenes to release on your birthday but I'm sure you'll have an epic day without it anyway. ;D Have a great day!
Selva3bd:
OMG TIFF, happy birthday, love. Thanks for being awesome. And thanks for all the work you put into Ilegenes and Adekan. You're awesome

Shion:
Thanks for making my translation more english friendly :DHope you have an enjoyable birthday.
Mei-mei:
Happy Birthday Tiff!! May your days be happy and fluffly and your birthday incredible <3 Hope you get lots of cake and presents too~
And a side note: I don't believe this bullshit I see on forums that some people don't like Hana? What?? How is that possible and where are your founding reasons for this amazing girl who's funny and thoughtful and knows how to be brave; that's right
I said it.
Quality Checker





Posts

: 729


Join date

: 2012-03-24


Age

: 24


Location

: home



I'm always late, but, HAPPY BIRTHDAAAAAY



How can people not like Hana? T.T
French Translator





Posts

: 66


Join date

: 2013-07-19


Age

: 23


Location

: France



Dear enchantednights,

Happy belated birthday!! Thank you SO much for being like, the sole proofreader of Adekan. xD Honestly I can't thank you enough for sticking with the project up to this point. I wish you all the best. May your days be ever more wonderful and blessed. :-)))
Japanese translator





Posts

: 571


Join date

: 2012-12-19



This is suchhhhh a late reply because I was on a school trip but OMG GUYS THANK YOU SOOOOO MUCHHHH <3333 It's been fun working with you guys, and I hope the days to come are just as great ^^ You guys are fab teammates and I can't ask for better ones xoxooxoxoxoxoxoxoxo *showers you all with love*
Proofreader





Posts

: 169


Join date

: 2012-12-10


Age

: 20





Similar topics
---
Permissions in this forum:
You
cannot
reply to topics in this forum