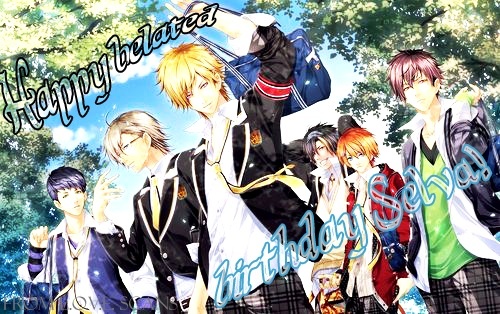 This is what happens when you throw some exams at both the admin and the birthday manager (lito). We become such terrible forgetful people who only just remembered about our dear Selva's birthday! Like a week afterwards - SHOCKING RIGHT??? And after all the super awesome work she does for us, we are ashamed (well I am anyway. XD)
Soooo instead of studying like my brain commanded me to, I went and QC'ed chapter 3 of Ilegenes. HURRAY! And that's not it! Here's the extra chapter for volume 10 of Karneval which now makes volume 10 fully completed! You can get the releases off the
Karneval Archive Thread
and the
Ilegenes Archive Thread.
And now for our awesome birthday messages!
monn:
Hey super cleaner! Happy belated birthday! It's nice that I finally get to work with you with more intensity than ever before, on Adekan. I'm so glad that you decided to lend your skills to help with the project. I wish you a year full of blast and...and... bang!! and ba-bump!!!-- pretty much a year filled with events that are too exciting your heart can't handle them and your brain will always remember them.

HBD again!
Shion:
I love all the work you've done so far. Your editing are awesome. The manga you clean are so clean and pretty, most of the hard to get rid of SFX are gone. The font you chose for SFX are good too. I've not chatted with you much so I don't really know what to say anymore and I see no point in give you birthday wishes since your birthday has passed so...yeah.
Kame-chan:
Happy Birthday Selva!!
May all of you wishes come true~
midnight-song:
Happy birthday, Selva! Thank you for all the hard work you've contributed. Hope you have a lovely birthday and find many exciting things to fangirl about in your new year of life. Enjoy your day to the fullest!

enchantednights:
Dear Selva,
Three words: You. Are. Fab.
I hope you've had an amazing birthday~! And thank you for all your work done for Ilegenes :3
xx Tiffany
Izaya:
I don't know you, but HAPPY BIRTHDAY

Hope you had a wonderful time~ :3
litoxpinky:
AHHHH SELVA WE LOVE YOU SO MUCH!! Exam period makes uh forgetfulness of just everything the more forgetful what did I just say Happy belated birthday Selva! You've done terrific work and I wish I could edit as beautifully and quickly as you do. And you know, you can have all of the sexy men on your picture ALL OF THEM for just being so great :'( Hoping to join you this year too in bringing more handsome men to the stage! AHAHA
And of course, not forgetting the forgetful me! Like seriously, just punch me now for forgetting. I KNEW your birthday was in May but I seriously thought it was the end of May and not the start so I thought I had plenty of time left but clearly I was wrong. SLAP ME NOW. Anyway, I'm deviating from the main topic....what was I going to say? Thank you so much for joining the team. You're such an enthusiastic and awesome editor that it makes me jealous of your incredible skills. It makes me feel so lucky and fortunate to have you around. T__T You're also SOOOOO good at finding hawt bishies for your forum avatars so I'm welcomed with a drool-fest every time I log in. XD Plus you and I seem to have similar anime tastes (remember how we were discussing Psycho-Pass like every week haha) so I always feel so happy when you're watching a series I am too because I feel like we can have some AWESOME DISCUSSIONS 8D. (Next up = Shingeki no Kyojin?

) I hope you had an awesome day with lots of presents and yummy food (because those make me happy) because you deserve all of it! HAPPY BELATED BIRTHDAY SELVA!
Last edited by AimoAio on Wed May 29, 2013 12:42 am; edited 2 times in total
Quality Checker





Posts

: 1038


Join date

: 2012-01-06


Age

: 26



Can I post my reply here? I'm sorry, I'm kinda a noob still lol
T________T
aww thank you guys, that's very sweet of you <33333 I was sick on my birthday but I will have a proper decent birthday party tomorrow instead, so it's like I'm celebrating it this week XD but really thank you so much for the birthday wishes and for being such awesome and loving and nice people. Even tho I only joined this team recently, but I feel so welcomed and home. Thank you

monn: thank you for the lovely words, I'm excited to be working with you on this fabulous manga too XD
Shion: omg thank you, your words mean so much to me, so thank you <3 I hope we get to talk more.
Kame-chan: thank you sweetie <3
midnight-song: haha thank you, I'm sure I'll find many things to fangirl about this year

enchanted: *hugs* you are fabulous, and thank you for all the work for Ilegenes too, I had fun working with you <3
Izaya: Thank you so much, I hope we get to talk together more in the future C:
lito: omg thank you for all the lovely words. I'm so happy I joined this team, you guys are all so sweet and nice and this has been a very amazing experience so far.
And Aimo: ahaha don't worry about it =P this is more than enough for me really, thank you for everything. oh God YES, Shingeki is definitely next one on the list, so get ready for my endless fangirling from now on

I wanted to write a proper long reply but I suck with words, I'm sorry ;___;
Editor





Posts

: 198


Join date

: 2012-12-10





Similar topics
---
Permissions in this forum:
You
cannot
reply to topics in this forum